China imported a record 6 million tons of LNG during November 2018, raising the year to date import volume to 47.6 million tons, an increase of 43% from the same period in 2017.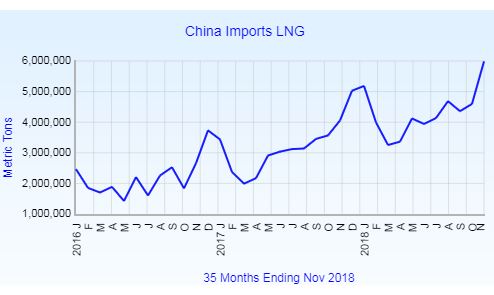 Australia was by far the largest supplier, with 21.2 million tons, up 38%. Other top sources included: Qatar, 8.1 million tons, up 26%; Malaysia, 5.1 million tons, up 31%; Indonesia, 4.1 million tons, up 57%.
Despite lower volumes in recent months because of duties imposed by China during the trade war, the US was China's fifth largest supplier year to date, with imports totaling 2.2 million tons through November, up 71%.
Other sizable LNG suppliers to China included: Papua New Guinea, Nigeria, Russia, Equatorial Guinea, Angola, Oman, France, Trinidad and Tobago, Netherlands, Brunei, Belgium and Norway. Imports increased from all the suppliers noted above.
Prices on China's LNG imports have trended upward for months, reaching $548/ton in November.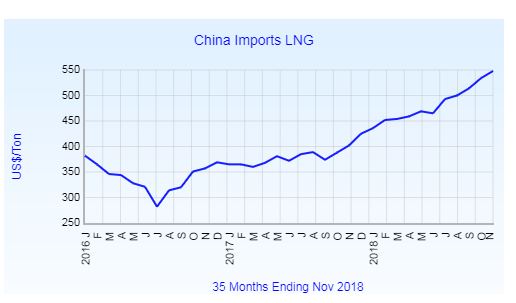 From International Trader Publications' LNG World Trade Report.