Western Europe's exports soared as lower domestic demand reduced intra-regional trade flows and imports. Other exporting regions also increased shipments in 2020. Asia-Pacific and Eastern Europe saw strong import growth.
The volume of global trade in butadiene has been fairly steady, between 2.50 and 2.65 million tons per year, from 2016 through 2020 (projected). Until 2020, the main components of that volume – intra-regional trade in the larger regions and also trade between regions – had also been relatively steady.
In 2020, however, Western Europe's intra-regional trade dropped by 21%, to 578,000 tons, from 2019.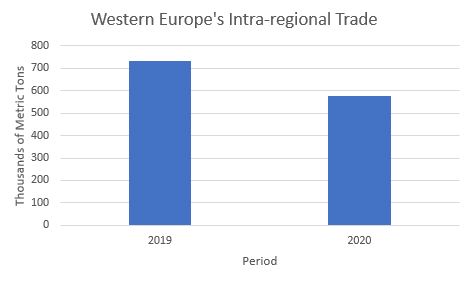 Western Europe's exports to other regions, mainly Asia-Pacific and Eastern Europe jumped 56%, to 560,000 tons. Exports from North America and the Middle East also climbed. Shipments out of Latin America fell slightly.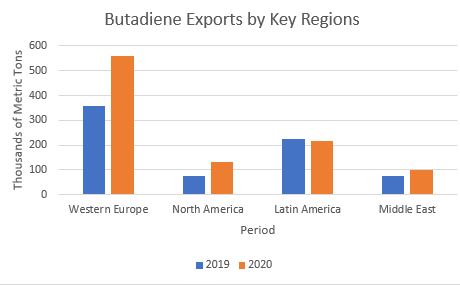 Asia-Pacific was a major export destination for each of the four regions. Imports into Asia-Pacific are projected up 57% in 2020 versus 2019, to 703,000 tons. China, Korea, Taiwan and Malaysia were among the growth markets. (Eastern Europe's imports increased 78%, to 132,000 tons, entirely on product from Western Europe.)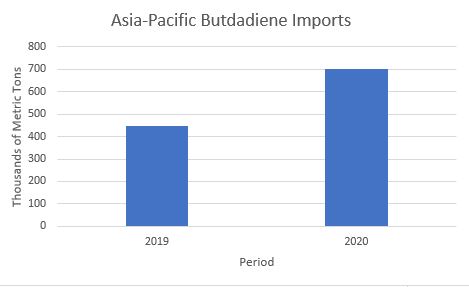 From International Trader Publications' Butadiene World Trade Report, a continuously updated analysis of global butadiene trade, between countries and regions, developed from the statistics of the 100 countries in ITP's database.