The surge in imports in April continued an upward trend visible since the last half of 2020.
Imports of commodity polymers into India peaked in April and reflected record high volumes of propylene polymers together with heavy volumes of polyethylene and PVC. Exports of ethylene and propylene polymers and PVC surged from April to about July in 2020, but then dropped sharply. These trends are visible below:

The trend in India's imports of ethylene and propylene polymers and PVC over the last ten years is visible in the graph below: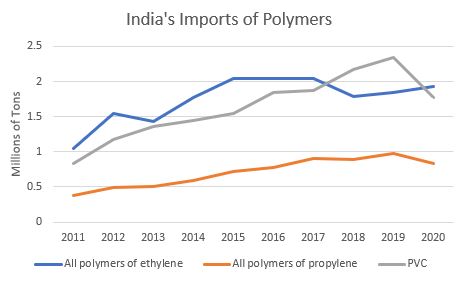 In an interview with S&P Global on April 1, 2021, Kamal Nanavaty, president of India's Chemical and Petrochemical Manufacturer's Association, noted that about $100 billion worth of investment will boost domestic production by 2030, with capacity expansions expected for PVC, polyethylene, polypropylene and other products.
From International Trader Publications' India Polymer Trade Report, a monthly analysis of India's imports and exports of all grades of polyethylene, polypropylene, styrenics, PVC and PET, recyclable polymers and key fabricated plastic products.