Imports of LNG into China, South Korea, Japan and UK showed different trends through May/June, 2022.
Sanctions on Russian products, Europe's efforts to end reliance on gas from Russia, the availability of more LNG from the US, changing alliances and other factors resulted in different trends in import markets over the January – June 2022 period.
Imports into China from Russia generally trended upward through the first half of the year, reaching 520,000 tons in June. Volume June YTD of 2.4 million tons was up 27% from the same period in the prior year.
Japan imported 3.7 million tons from Russia through June, up 8%. Volume slowed in April but climbed in May and June.
LNG imports from Russia into South Korea dropped off sharply in June, volume YTD of 1.3 million tons down 7%.
In the UK, statistics available through May show no imports from Russia in both April and May. YTD through May, UK's imports from Russia were 0.4 million tons, down 77%. (UK's imports from the US were 5.1 million tons, up 163%; from Qatar, 2.5 million tons, up 20%).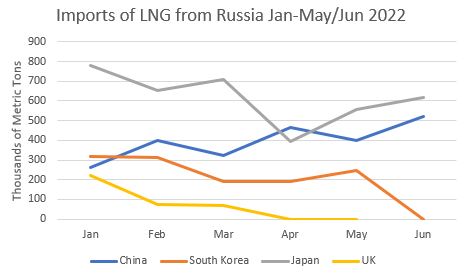 From International Trader Publications' LNG World Trade Analysis, a continuously updated analyses of trade between countries and regions based on statistics from all available reporting countries.