The volume of recyclable polystyrene traded globally has fallen steeply from a peak of 460,000 tons in 2017 to 224,000 tons projected for 2020.
RPS – recyclable polystyrene – is waste, parings and scrap that is identifiable as polystyrene and is traded under a specific Harmonized System code number.
After peaking in 2017, there was a particularly steep drop in global trade volume in 2018 after China banned imports, and further declines in 2019 and 2020.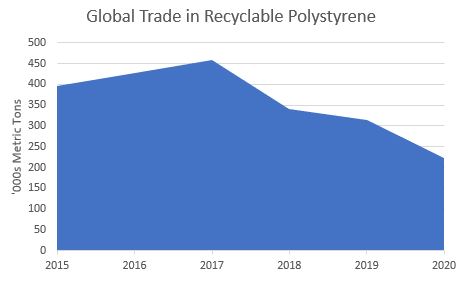 Several key trade flows shrank, including intra-regional trade in Western Europe and, especially, Asia-Pacific; exports from Western Europe and North America; and imports into Asia-Pacific.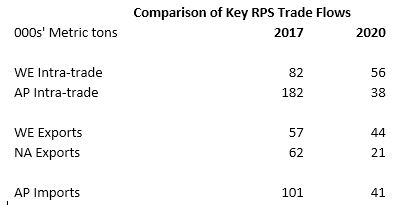 From International Trader Publications' Recyclable Polystyrene World Trade Report, a continuously updated analysis of RPS global trade, based on statistics from key countries.