Monoethylene glycol and diethylene glycol global trade volume has expanded each year from 2017 through 2020, with dramatic changes in trade flows between regions.
MEG global trade volume rose from 15 million tons in 2017 to 17.4 million tons projected for 2020, up an average of 5% per year. DEG trade volume rose from 1.5 million tons to 1.7 million tons over the period, also up an average of 5% per year.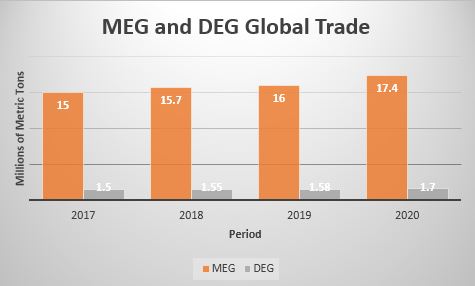 North America's (US and Canada) MEG exports expanded sharply in 2019, up 37% versus 2018, to 2.1 million tons, and 2020, up 84%, to 3.8 million tons.
Exports out of the Middle East, however, dropped by 1% in 2019 from 2018, to 8.4 million tons, and are projected down 6% in 2020, to 7.8 million tons.
North America's MEG exports are on track to show large percentage gains in 2020 to Western Europe, up 35%, Eastern Europe, up 157%, and Asia-Pacific, up 105%. Middle East exports to these regions are projected down 29%, 33% and 2%, respectively.

Similar trends were evident for DEG.
From International Trader Publications' World Trade Reports on MEG and DEG, continuously updated analysis of trade between countries and regions based on ITP's database of 100 countries.