This new Report tracks the movement of liquefied propane gas between all importing and exporting countries and regions. In 2016, trade volume was 70 million tons, up 9% from 2015. Preliminary data shows volume as of February 2017 YTD up over 20%.
Asia-Pacific, with over 33 million tons of imports in 2016, up 8%, was by far the largest importing region in the world. The Middle East supplied 20 million tons of the region's total, down 7%; North America's exports to the region rose sharply and totaled 11 million tons, up 60%; Africa's exports of 1.5 million tons were down 16%.
China was Asia-Pacific's largest importer of liquefied propane gas and imports have been trending higher since 2013. Volume in 2016 set new monthly records and totaled 11.6 million tons, up 36%.
Imports in 2016 into Western Europe and Latin America were each over 8 million tons, up 11% and 6%, respectively, versus 2015.
North America was the world's leading exporter of liquefied propane gas. The strong upward trend in US exports of liquefied propane over the last two years (and for two years prior) is evident in the graph. Shipments in 2016 totaled 25 million tons, up 30%. Year to date through February 2017, US exported 5 million tons, up 11%.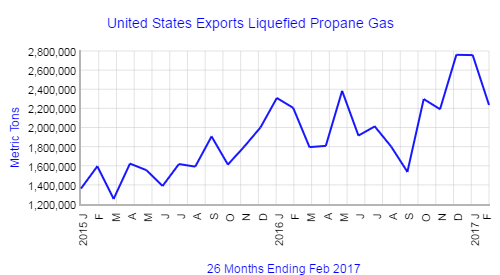 From International Trader Publications: Liquefied Propane World Trade Report