China's exports of both polymers soared in 2021 and are projected still higher in 2022. Much higher shipments to Russia and Turkey, and for PVC, also India, factored in the gains.
Exports of uncompounded PVC and PET peaked roughly mid-2022 and eased in September and October, partly because the later month included a national holiday. China's exports usually rebound at the end of the year but continued Covid lockdowns are likely to dampen export volumes.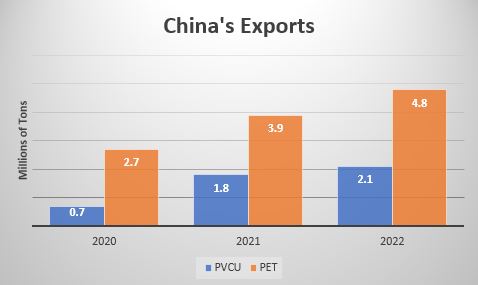 ITP projects exports of uncompounded PVC of 2.1 million tons in 2022, up 16% from 2021. Exports of PET are projected to be 4.8 million tons, up 23%.
From International Trader Publications Projected World Trade Matrixes for PVCU and PET.