The volume of isocyanates (combined MDI, TDI and other) traded through May 2020 was down 10% from the same period last year, based on latest available statistics. Asia-Pacific and Western Europe, accounting for more than half of global trade volume, each saw trade contract within their regions, with lower imports.
Isocyanates are used in rigid and flexible foam, paints, coatings, adhesives, elastomers and numerous applications in building, construction and auto manufacture, all of which have been impacted by the pandemic, especially in the second quarter.
Isocyanates global trade volume grew by 2% in both 2016 and 2017, 4% in 2018, and was unchanged in 2019, at 2.14 million tons. Key growth import markets in 2019 included Turkey, Russia, Poland, Nigeria, Vietnam, Indonesia, Thailand and Taiwan.
Latest available statistics indicate a 10% drop in global volume through May, to 650,000 tons, and a decline of 7% by year end 2020, to 1.99 million tons.
Asia-Pacific intra-regional trade was down 10% through May, to 185,000 tons; imports into the region, mainly from Europe and the Middle East (Saudi Arabia), dropped 19%, to 42,000 tons. Shipments by the region's top exporters, Korea, Japan and China, each dropped sharply in April and May. China's exports through May are shown below: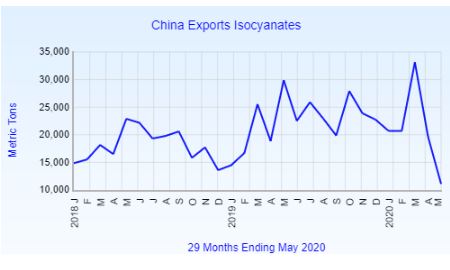 Western Europe's intra-regional trade contracted by 17% through May, to 101,000 tons and imports fell by 25%, to 37,000 tons.
From International Trader Publications' Isocyanates World Trade Report, a continuously updated online analysis of global isocyanates trade.