Polyethylene terephthalate polymer is traded under two forms: bottle grade PET, and, other than bottle grade. There are substantial differences between them in terms of end uses, trade volume, and trade trends.
Bottle grade PET is polyethylene terephthalate with a viscosity equal to or greater than 78 ml/g. It is used mainly for carbonated and non-carbonated beverages.
Nearly 9 million tons of this polymer were traded in 2019, up 3% from the prior year, the increase indicating growth in global demand. How this polymer is traded globally is shown in the table below. The 9 million tons of global trade is the total of all intra-regional trade plus all imports or exports. (Imports equal exports as each import has a corresponding export).
Every region except Asia-Pacific imported sizable volumes from other regions, with particularly large percentage increases on imports into Western Europe, up 30%, and the Middle East, up 24%. Asia-Pacific was by far the world's largest exporting region, shipping 3.4 million tons, up 4%. Trade within the Asia-Pacific region, 2.2 million tons, and Western Europe, 1.1 million tons, were also key contributors to the global trade total.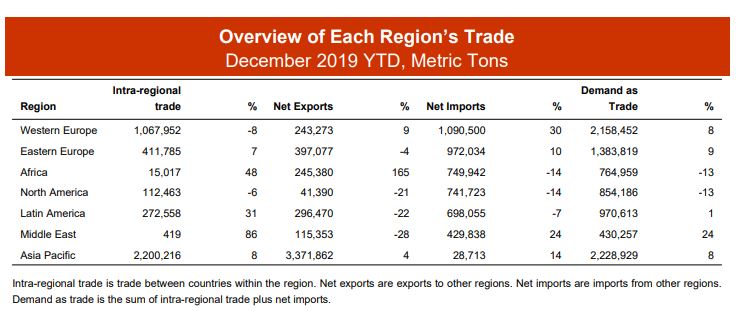 Global trade in bottle grade PET is projected down 2% by yearend 2020, to 8.6 million tons, indicating a small contraction in global demand. Declines in imports by 4%-13% are projected for all regions except North America, with a 4% gain. Asia-Pacific exports are projected down 6%.
PET other than bottle grade has a viscosity of less than 0.78 and is used in textiles, tire cord, film and sheet, among others. Trade volume is substantially smaller than bottle grade, with 4.2 million tons traded in 2019, up 12%. End use applications have been much more severely impacted by the pandemic and global trade volume for this grade of PET is projected down 21% by yearend, to 3.3 million tons.
From International Trader Publications' PET Bottle Grade World Trade Report and PET Other Than Bottle Grade World Trade Report. ITP's World Trade Reports continuously analyze trade for countries, regions and the world based on the latest statistics from 100 countries.