Turkey imported 563,000 tons of caustic soda in aqueous solution in 2019, up 66% from 2019. With imports through March 2020 totaling 148,000 tons, the upward trend looks to continue.
A strong base, caustic soda is used across many industries, in the production of alumina, paper, pulp, plastics, soap, and other chemicals.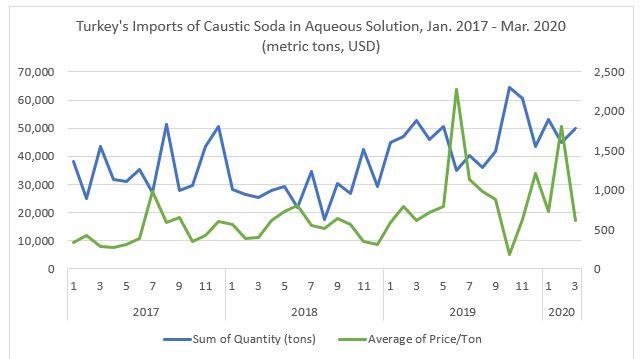 Russia, France, and Egypt have alternated as Turkey's top source of caustic soda since 2017. Russia has provided the greatest overall volume since that time, at the steadiest rate – both in terms of volume and price per ton. From a low in Q1 2018, imports from Egypt have grown steadily, peaking in November 2019. Volumes from France peaked that same month, having grown steadily since late 2018.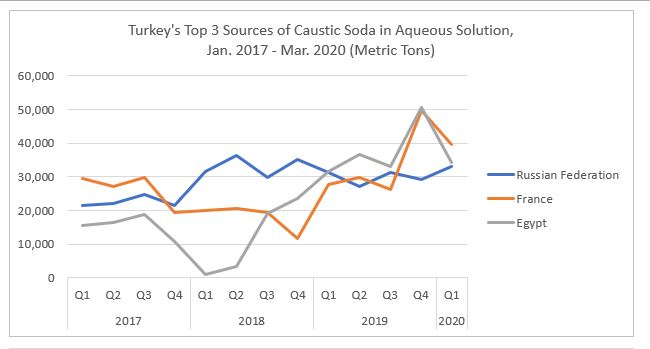 As of March 2020 YTD, Turkey has imported 40,000 tons of caustic soda from France (up 43% versus the same period last year), 34,000 tons from Egypt (up 9%), 33,000 tons from Russia (up 6%), 18,000 tons from Belgium (up 630%), and 10,000 tons from Romania (up 213%).
By Christiana Fierro. Data from International Trader Publications' Caustic Soda in Aqueous Solution World Trade Report, a continuously updated online analysis of global trade in caustic soda.