The US imported 191,000 tons of PET film/sheet through June, 2019, up 23% from the first half of 2018. Volumes exceeded those into China, which was the world's largest importer in 2018.
Imports in the US trended sharply higher from mid-2018 to May 2019 but slowed in June mainly on lower volumes from Oman: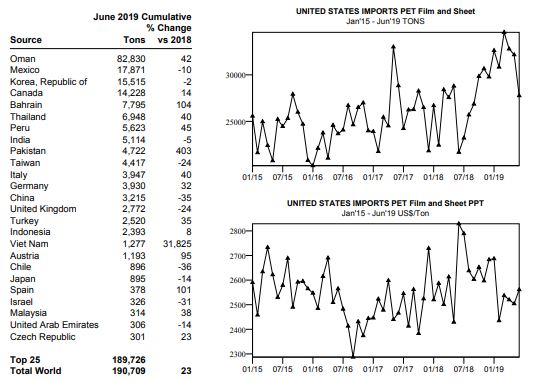 Oman, Mexico and South Korea accounted for just over 60% of the US total year to date. All three countries are currently the target of anti-dumping charges by US PET film and sheet manufacturers. The average price of film and sheet from Oman fell each month in 2019 to date, from $2043/ton in January to $1814/ton in June.
From International Trader Publications' PET Film and Sheet World Trade Report, a continuously updated on line report on global trade.