US exports of ethylene polymers set a another record high in October, 2018, climbing to 706,300 tons. Volume in January was 494,000 tons.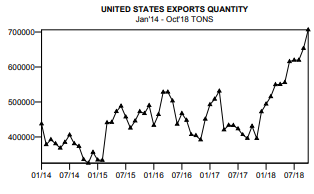 Year-to-date through October, US exports of LDPE, LLDPE, HDPE, EAOC, EVA and other ethylene copolymers totaled 5.9 million tons, up 31% from the same period in 2017.
The volume of ethylene polymers shipped by the US to China has fallen from 62,000 tons in August, the month China's 25% tariffs first went into effect on HDPE, EAOC and EVA, to 30,000 tons in October.
The US more than compensated for the decline in exports to China by ramping up shipments to numerous Latin America markets and also to Europe and Asia-Pacific, noting especially gains to Belgium, Vietnam and Malaysia.
From International Trader Publications' United States Polymer Trade Report – a monthly report summarizing US imports and exports of all commodity polymers of ethylene, propylene, styrene, PVC and PET, recycle polymers, and leading fabricated plastic products.