In April 2019, for the second month in a row, China's imports of ethylene polymers hit a new record high. Year to date, reduced volumes from North America were offset by increased volumes from Asia-Pacific sources.
In April, 2019, China imported 1.7 million tons of ethylene polymers (LDPE, HDPE, LLDPE/EAOC, EVA and copolymers), at an average price of $1121/ton. This was the highest volume ever recorded and among the lowest price registered during the period beginning January 2015.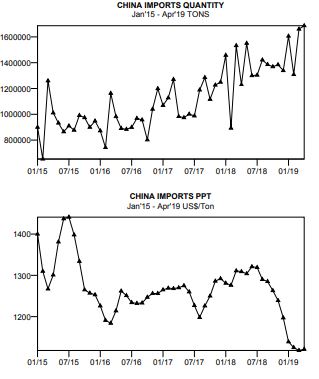 Year to date through April, China imported 6.3 million tons of ethylene polymers, up 23%. The effects of the US-China trade war were evident in the drop in North America's share of the Chinese market for ethylene polymers, from 7.3% in 2018 to 4.5% in 2019.
Imports from the Middle East were steady at 48% of China's total in both 2018 and 2019. Saudi Arabia was the top supplier, followed by Iran, UAE, Qatar and Kuwait.
Asia-Pacific increased in importance as a supplier, the region accounting for 41% of China's April YTD total in 2019, up from 37% in 2018. Imports from many countries increased sharply: South Korea, up 18%; Thailand, up 39%; Singapore, up 24%; India, up 72%; Taiwan, up 34%; Malaysia, up 94%; Japan, up 43%; Indonesia, up 282%.
From International Trader Publications' China Polymer Trade Report, a monthly analysis of China's trade in all commodity polymers, recycle polymers and key fabricated plastic products.