The US exported 800,000 tons of ethylene polymers in March 2019, a new record. Imports of fabricated plastic products, many of which come from China, were impacted by the US-China trade war.
Shipments of HDPE, ethylene-alpha-olefins-copolymers, and conventional low density polyethylene all hit new highs in March and contributed to the new record total: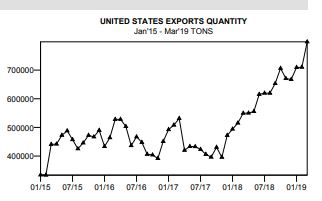 YTD through the first quarter the US exported 2.2 million tons of ethylene polymers, up 42% versus first quarter 2018. A decline of 35% in shipments to China was more than offset by higher volumes to all world regions, including Asia-Pacific.
US imports of fabricated plastic products set a record in December last year but then slowed from January through March: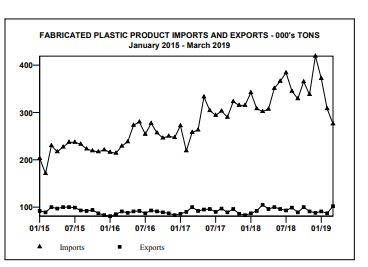 US imports of polyethylene sacks and bags and PVC floor and wall coverings from China were particularly affected.
From International Trader Publications' United States Polymer Trade Report, a monthly update with the latest statistics on US imports/exports of commodity polymers, recycle polymers and fabricated plastic products.