Economic recovery was apparent in the stunning surge in China's imports of virtually every major grade of commodity polymer in June. Import volume for the month, 3.6 million tons, was unprecedented and raised China's YTD import total to 15.9 million tons, up 8% from the first half of 2019.
This was the second month in a row that China's imports of commodity polymers hit new highs.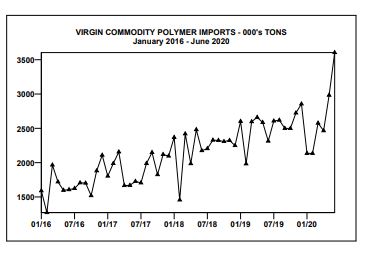 New records were set on imports of: LDPE; LLDPE; HDPE, EVA, Ethylene Copolymers, Polypropylene Homopolymer, Propylene Copolymers, Polyisobutylene, PSN, PSX, ABS, SAN and PVC.
Average prices plummeted in the second quarter, the average in June: polyethylene $849/ton; polypropylene, $977/ton; styrenics, $1225/ton; PVC, $925/ton.
From International Trader Publications' China Polymer Trade Report, a monthly report analyzing China's trade in commodity polymers, recycle polymers and fabricated plastic products.