In advance of the Chinese New Year holiday beginning on February 5th, China's imports of many products jumped to new highs in January.
Imports of each of the following large volume products set new records in January: LNG, 6.6 million tons; ethylene glycol, 1.0 million tons; methanol, 890,000 tons; styrene monomer, 395,000 tons; ethylene monomer, 287,000 tons
The highest volume ever recorded for ethylene polymers also was set in January, 1.6 million tons, albeit at the lowest average price in over four years, $1139/ton: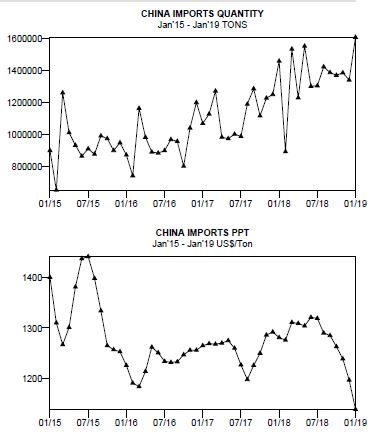 Imports of all ethylene polymers were up in January, but there was a new high on imports of linear low density of 507,000 tons at $1124/ton, top suppliers including Saudi Arabia, Singapore, Thailand, India and UAE.
Imports of HDPE of 658,000 tons at $1119/ton were just under a previous high, top sources including Saudi Arabia, UAE, Korea, Iran and India.
Imports of ethylene polymers from the US continued at roughly 35,000 tons, as they have since October, 2018. This was down from a peak of about 100,000 tons in August.
From International Trader Publication's China Polymer Trade Report, a monthly Report updated as soon as China's statistics are released, and, World Trade Reports on specific products, on line Reports updated daily and capturing nearly all of the world's trade.