After a slow beginning to the year as China battled the Corona virus, polyolefin imports picked up moderately in March and April then soared to new record highs in May. Prices continued their steep declines.
The new record in May on China's imports of ethylene polymers was 1.8 million tons, bringing the YTD total to 7.8 million tons, off just 1% from the same period, pre-Covid, in 2019. The average price slid to $852/ton. Among the top suppliers, imports YTD from Saudi Arabia and Iran were down; volumes from Korea and UAE posted gains.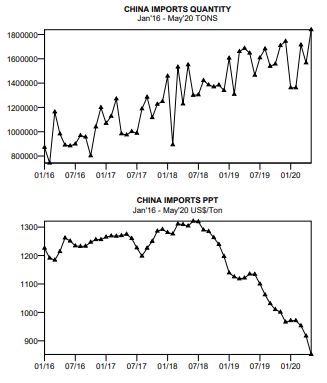 Imports of ethylene-alpha-olefins copolymers were 2.4 million tons of the total, unchanged; imports of HDPE were 3.4 million tons, up 4%.
Imports of propylene polymers followed the same pattern of slow start to the year through to a new high in May. Volume YTD totaled 2.4 million tons, up 11%. The average price dropped to $1002/ton. Similar to PE, imports of PP from Korea and UAE increased, but supplies from Singapore, Taiwan and Saudi Arabia were down.
From International Trader Publications' China Polymer Trade Report, a monthly analysis of China's trade in all polymers of ethylene, propylene, styrene, VCM and PET, recycle polymers and fabricated plastic products.