While China's imports of PE, PP and PVC hit new highs in May, China's exports of key fabricated plastic products were flat at April levels. Slowing demand in the US was a factor for a number of products.
China publishes export statistics for a basket of plastic products that can be identified by specific polymer, or, that are comprised of mixed polymers. Volume totaled nearly 13 million tons in 2019. Exports posted moderate gains in March and April, then paused in May. YTD, shipments totaled 4.8 million tons, down 1% from the same period in 2019.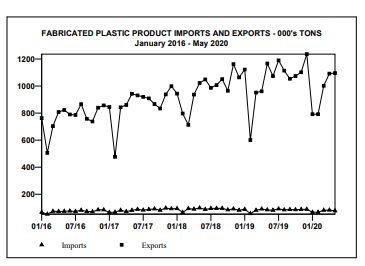 Weaker demand due to Covid-19 in top destination, the US, as well as in other markets, was reflected in reduced Chinese exports of builders' ware (tanks, vats, door and window frames, shutters, building elements and other articles), boxes/crates and similar articles, kitchenware (plates, bowls, dispensers, utensils, trays and similar articles), and other household items (curtains, drapes, furniture covers and other furnishings). YTD, China's shipments of these product groups were down by 10%-17% YTD.
From International Trader Publication's China Polymer Trade Report, a monthly analysis of China's trade in all polymers of ethylene, propylene, styrene, VCM and PET, recycle polymers and fabricated plastic products.