China's imports of ethylene polymers surged in November in advance of the Chinese New Year holiday that begins January 25, 2020. Exports of fabricated products trended higher in October and November, but remained below levels reached earlier in the year, and also in 2018, largely because of the trade war with the US.
Imports of ethylene polymers hit a new record in November of 1.7 million tons. YTD through November, China imported 17.5 million tons of LDPE, Ethylene-Alpha-Olefins Copolymers, HDPE, EVA plus other ethylene copolymers , up 18% from the same period in the prior year. Lower volumes from the US of polymers to which duties of 25% had been applied, were more than offset by higher volumes from Saudi Arabia, Iran, Korea, Thailand and others.
China exported 11.4 million tons of plastic products identifiable by specific polymer through November. Although this was a 7% increase from the same period in the prior year, and, exports did trend gradually higher in the last two months, there was not the strong year end surge that had been visible in prior years. Exports to the US of polyethylene plastic bags and PVC floor/wall coverings, plus lower shipments of several other products were factors in the trend.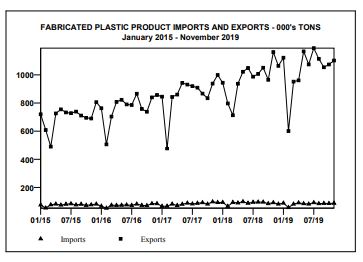 From International Trader Publications' China Polymer Trade Report, a monthly analysis of China's imports and exports of all commodity and recycle polymers and fabricated plastic products.