Weak economic activity over the last several months was evident from the drop by over 3 million tons, 21%, in China's imports of LNG through May, to 26.6 million tons.
China's imports from the US totaled 928,000 tons through May, down 68%. US exports set new record highs in recent months but volumes were diverted to Europe (UK, Netherlands, Italy, Belgium, Turkey and others) and away from China, Korea, Japan, India, Brazil and others.
Partly offsetting lower volumes from the US, Australia and several other sources, were higher imports into China from Qatar, Russia and Trinidad-Tobago.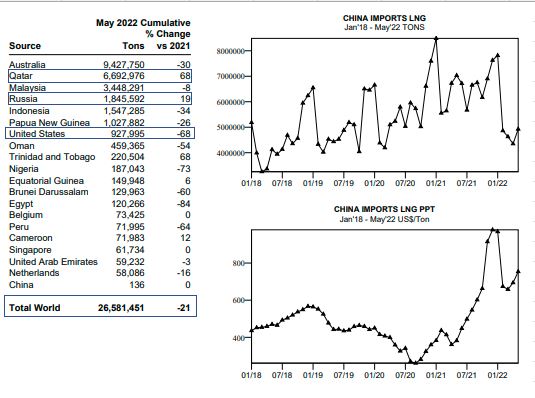 From International Trader Publications' LNG World Trade Analysis, a continuously updated analysis of LNG trade between countries and regions, based on statistics from all available countries.