US export figures through May, 2022, show not only surging export volumes but also a shift away from Asia-Pacific to Europe.
The United States exported 37.4 million tons of liquefied natural gas through May, 2022, up 20% from the same period in 2021. The rising trend in volume, accompanied by sharply higher prices, is visible below: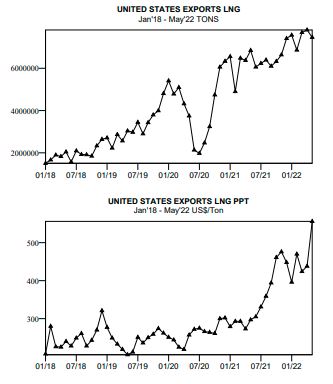 The war in Ukraine and a move in Europe to reduce dependence on Russian gas has led to the US exporting a much higher percentage of its total to Western and Eastern Europe and reducing exports to Asia-Pacific and Latin America. Through May, 2022, exports to Western and Eastern Europe were 71% of the US total, up from 36% through May of 2021.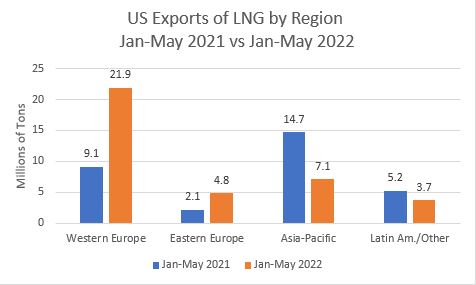 From International Trader Publications' LNG World Trade Analysis, a continuously updated analysis of trade between countries and regions based on trade statistics from all available countries.