Duties of 25% on imports from the US of most polyethylene grades have had little effect on China's total imports, which were at record levels from March through May, 2019.
China imported a total of 7.9 million tons of ethylene polymers through May, 2019, up 19% from the same period in 2018, with volumes at record levels over the three latest months: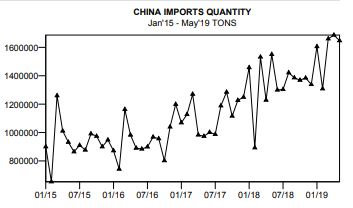 Although China's total imports from the US were down 37% through May, to 254,000 tons, this was more than offset by much higher volumes from Saudi Arabia, Iran, Korea, Thailand, Singapore, India, Malaysia and many other countries.
China has not applied a 25% duty on imports of conventional high pressure LDPE from the US and imports of this polymer from the US more than doubled through May. In contrast, China's imports from the US of polymers that were applied the duty were down sharply: HDPE, down 83%; ethylene-alpha-olefins copolymers, down 47%; EVA, down 48%.
From International Trader Publications China Polymer Trade Report, a monthly analysis of China's imports and exports of all commodity polymers, recycle polymers and fabricated plastic products.