US exports of polyethylene reached successive new highs from March through May, 2019, with relatively little impact evident from reduced shipments to China.
US exports of all grades of polyethylene were up 45% through May, to 3.9 million tons: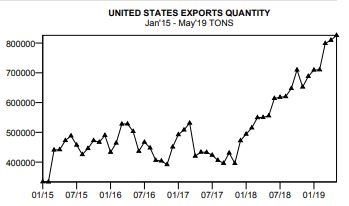 Among the leading grades, exports of conventional high pressure LDPE showed the highest percentage increase, up 78%, to 566,000 tons. This was the only grade to which China did not apply a 25% duty as of August 23, 2018. China was the US's largest export destination, volume YTD totaling 140,000 tons, up 223%.
Exports of HDPE and ethylene-alpha-olefins copolymers (EAOC) are currently assessed a duty of 25% by China. Although exports of each grade to China were down by about 40%, this was more than offset by huge percentage gains on exports to Belgium, Brazil, Vietnam, Malaysia and others. US exports of HDPE were 1.4 million tons YTD, up 47%; EAOC was 1.2 million tons, up 63%.
From International Trader Publications US Polymer Trade Report a monthly analysis of US trade in all commodity and recycle polymers, and fabricated plastic products.