China and Turkey were shipped 95% of the total volume, with 5% to many other countries, including several that attempt to comply with the sanctions.
Although Iran does not publish trade statistics, its exports are visible in large part from trading partner statistics. These show heavy exports of combined LDPE, HDPE and LLDPE/EAOC through August 2021.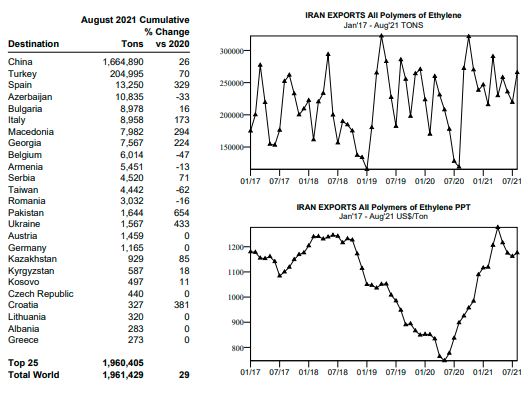 HDPE was the largest volume Iranian polymer export, 1.0 million tons, up 17%, followed by conventional high pressure LDPE, 0.6 million tons, up 25%. Exports of LLDPE/EAOC, 0.4 million tons, showed the highest increase, up 104% through August.
From International Trader Publication's continuously updated on line World Trade Analyses on All Polymers of Ethylene, HDPE, LDPE and LLDPE.