The decline in the global total is primarily attributable to substantially lower imports into China, which is not expected to be offset by higher imports into Turkey, India, Mexico and Pakistan, among others.
Over the last ten years, global trade in MEG has increased each year except 2016 and 2021 (projected).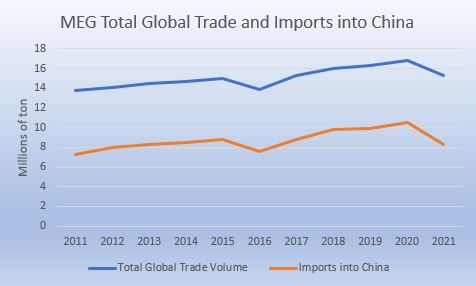 The total volume of MEG traded globally was 13.8 million tons in 2011. Volume peaked at 16.8 million tons in 2020 and is projected to drop to 15.3 million tons in 2021.
In 2011, China imported 7.3 million tons of MEG, accounting for 53% of the global total. Imports also peaked in 2020, at 10.6 million tons, and comprised 63% of the global total. In 2021, China's imports are projected to drop to 8.3 million tons and 54% of the global total.
The loss of over 2 million tons of MEG import demand in China from 2020 to 2021 has impacted, among others, MEG exports from Saudi Arabia, which are projected at 6.5 million tons in 2021, down 6%, and the US, projected at 2 million tons, down 14%.
Several markets are expected to show strong import gains in 2021, although volumes are much smaller than China's: Turkey, 900,000 tons up 31%; Mexico, 428,000 tons, up 6%; India, 840,000 tons, up 52%; Pakistan, 350,000 tons, up 100%; Indonesia, 440,000 tons, up 18%.
On June 28, 2021, India's Ministry of Commerce and Industry initiated an anti-dumping investigation on imports from Kuwait, Saudi Arabia, and also the US.
From International Trader Publications' MEG World Trade Analysis, MEG Trade Archive, and MEG Projected World Trade Matrixes.