Iran is a major exporter of liquefied gases and chemicals and the country's shipments of these products have risen dramatically over the last five years.
The surge, especially, in Iran's exports of methanol, LNG, liquefied propane gas and liquefied butane gas between 2017 and 2022 is evident in the graph. Polyethylene exports increased moderately. Glycol exports dropped.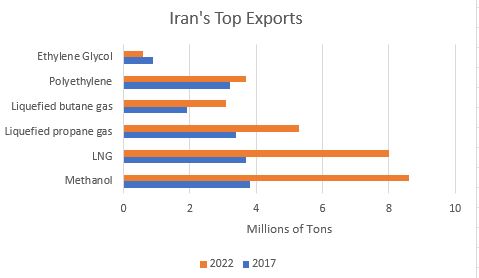 Iran is also a sizable exporter of other polymers and chemicals, among them, PE and PP film and sheet, soda ash, benzene, p-xylene, expandable and general purpose polystyrene, butylene and ethylene.
From International Trader Publications' World Trade Analyses, continuously updated, comprehensive analyses of global trade.