The volume of liquefied propane gas traded globally as imports and exports was up 4% through June 2017, to over 34 million tons. Increased imports into Asia-Pacific and Western Europe and higher exports from North America, Africa and Middle East were prominent trends.
Growth import markets in Asia-Pacific included China, South Korea, Indonesia and India; in Western Europe: France, Italy, Sweden and, with a 51% increase on imports to date, Spain. Spain's imports were sourced mainly from Algeria, US and Norway.
North American exports totaled 12.5 million tons through June, up 9%, higher volumes to Asia-Pacific and Western Europe offsetting a moderate decline to Latin America.
US exports slowed in the second quarter of 2017: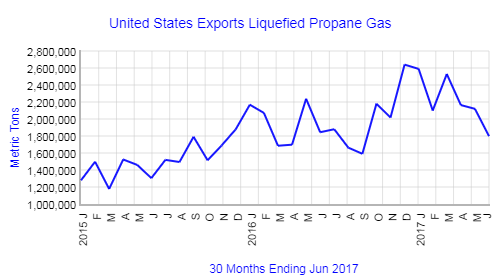 From International Trader Publication's: Liquefied Propane Gas World Trade Report – a continuously updated on line Report analyzing trade flows between countries and regions based on the latest import/export statistics from 60 countries.