The United States exported nearly 7 million tons of liquefied natural gas through June 2017, versus minor volumes in the same period in 2016. Shipments were global, with large volumes to all regions except Africa. As US exports to Western Europe and Latin America increased, shipments from the Middle East and Africa to those regions dropped.
US exports of LNG hit new highs in the first half of 2017: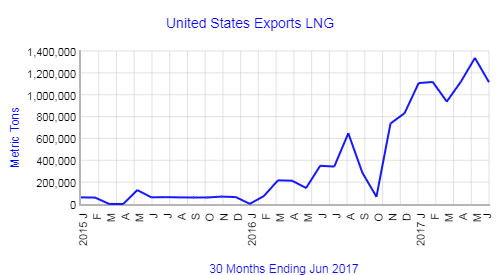 Latin America was the US's largest export destination, with over 2.2 million tons shipped. Asia-Pacific followed, with over 2 million tons.
US exports to the Middle East were nearly 1.5 million tons and included shipments to Jordan (the US's second largest export destination, after Mexico), Kuwait and UAE.
From International Trader Publication's: LNG World Trade Report – a continuously updated online Report analyzing trade flows between countries and regions, based on the latest import/export statistics from over 40 countries.