The volume of propylene monomer traded as imports and exports in 2016 was 7.8 million tons, down 2% from 2015. (Based on latest available trade statistics.)
Lower imports into both Asia-Pacific and Western Europe from sources outside each region, and also lower intra-regional trade in Western Europe, negatively affected global volume.
Trade within Western Europe was down 11%; imports into the region from North America, Middle East and Latin America fell sharply.
On the positive side, China's imports surged at yearend on monomer sourced almost entirely from within the Asia-Pacific region. China imported a total of 2.9 million tons in 2016, up 5%. (Volume continued heavy into January, 2017 – see graph.) Trade within the Asia-Pacific region expanded by 2%.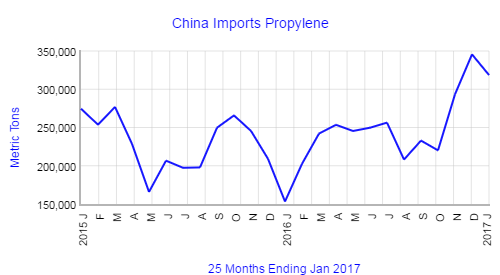 North America's exports to Latin America jumped by 80%, to 400,000 tons, on US shipments to Colombia and Mexico.
From International Trader Publications': Propylene World Trade Report