Used heavily in construction, which was severely curtailed by the pandemic, PVC exports from the US fell by nearly 90,000 tons from March to April.
The magnitude of the fall in US export volume, from 247,000 tons in March to 158,000 tons in April, was unprecedented.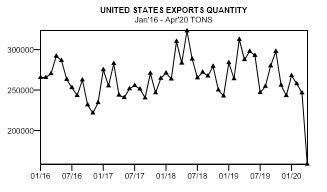 The largest volume declines were on shipments to Canada, Mexico, China and India. Year to date, US exports totaled 931,000 tons, down 19%.
From International Trader Publications' United States Polymer Trade Report, a monthly analysis of US trade in all polymers of ethylene, propylene, styrene, VCM and PET, recycle polymers and fabricated plastic products.