After trending higher since December and reaching record levels in March, the total volume of US exports across all the ethylene polymers was down in April. Shipments for the month were down 10% from March, but the magnitude of the decline varied greatly by specific polymer and also by region.
The US exported 884,000 tons across all the ethylene polymers in April, down 91,000 tons, or 10%, from March. Shipments year to date totaled 3.8 million tons, up 24% from the same period in 2019.
Among specific polymers, however, there was no change from March to April in US exports of linear polyethylene as ethylene-alpha-olefin copolymers. This is the largest volume US export. A record of 355,000 tons was shipped in both March and April, bringing the YTD total to 1.4 million tons, up 43%. Comparing the top US export destinations for this polymer over the two months, there was no change in the volume shipped to Belgium, exports to the Asian markets of Malaysia, Singapore, China, Korea and Vietnam increased in April, but shipments to Brazil, Canada, Mexico and Colombia in the Americas, slowed. Average prices steadied around $907/ton.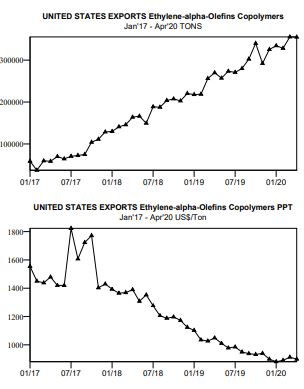 After trending higher since December, there was only a minor decline in US exports of conventional high pressure LDPE, from 107,000 tons in March to 96,000 tons in April. Exports YTD totaled 0.4 million tons, down 7%. Contributing to the decline in the YTD total was a steep drop in shipments to China, which were down 66%, to 35,000 tons. In 2019, US exports to China of this polymer, which were not subjected to punitive duties during the year, had trended upward strongly.
The US exported 1.3 million tons of HDPE through April, up 26% from last year, but shipments in April of 292,000 tons were down by 56,000 tons from March. This was again due mainly to lower volumes to markets in the Americas, including Mexico, Canada, Brazil and Colombia, which were not fully offset by gains to Belgium and China, among others.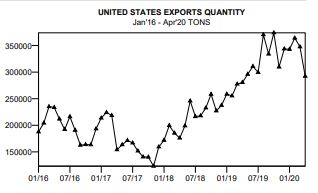 From International Trader Publications US Polymer Trade Report, a monthly analysis of US trade in all polymers of ethylene, propylene, styrene, VCM and PET, recycle polymers, and fabricated plastic products.