US exports slowed during the second quarter of 2020, hovered at a low around 2 million tons per month from June through August, then climbed sharply, to over 6 million tons in November.
US exports through November totaled 44.2 million tons, up 30% from the same period in the prior year. Exports to the great majority of US markets were up substantially, among them Korea, Japan, India, Turkey, Brazil, Taiwan, Pakistan, Kuwait, Jamaica, Israel, and several European countries.
Shipments to China, however, were particularly noteworthy. These began in March, at 295,000 tons, rose to 520,000 tons in April, but slumped to roughly 150,000 tons per month from June through September. Then, much higher volumes were shipped in October, 760,000 tons, and again in November, 965,000 tons, propelling China into third place among US export destinations. Further expansion is likely given a new term agreement between Cheniere Energy and Foran Energy Group to sell 26 LNG cargoes over the next five years to 2025, according to multiple media sources.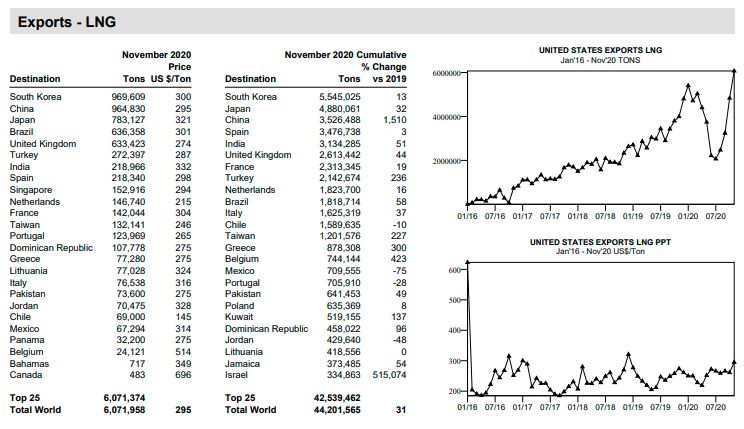 From International Trader Publication's LNG World Trade Report, a continuously updated analysis of global LNG trade between countries and regions based on ITP's database of 100 countries.