Korea exported record volumes of polyethylene for most of 2020, but shipments dropped toward yearend on much lower volumes to China.
Just over 60% of Korea's exports of polyethylene go to China. Volumes are generally high at the end of the calendar year as China ramps up manufacturing in advance of Chinese New Year (February 12, 2021) but this was not the case in 2020, indicating weakening demand. Korea exported roughly 170,000 tons per month in November and December, compared with a high of 230,000 tons in July. Average prices trended upward, to $1291/ton on the December total, and $1254/ton to China.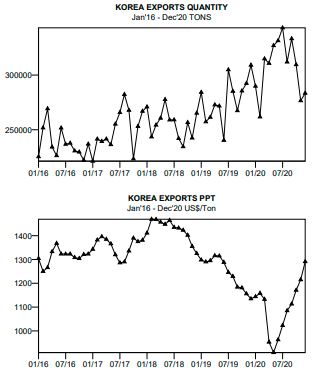 Korea's exports for the year totaled 3.7 million tons, up 11%. HDPE exports were 1.6 million tons of the total, up 23%; EVA was the next highest volume, 680,000 tons, up 7%, followed by ethylene-alpha-olefins copolymers, 530,000 tons, up 765.
Exports to China were 2.3 million tons of the total, up 21%. Vietnam, India and Turkey were Korea's next largest export destinations.
From International Trader Publications' Korea Polymer Trade Report, a monthly analysis of Korea's trade in all commodity polymers, recycle polymers and key fabricated plastic products.