Expansion of Asia-Pacific intra-regional trade, mainly on demand in China, accounted for most of the growth in the global total.
Primary uses for p-Xylene are in the manufacture PET polymer and polyester fiber, and as a solvent in numerous applications.
PX global trade volume trade was 10.2 million tons in 2010. Volume peaked in 2018 at 17.6 million tons, slowed to 16.5 million tons in 2019 at the start of the pandemic and fell to 15.5 million tons in 2020.
The rise global trade, and how much of it is accounted for by Asia-Pacific intra-regional trade plus imports into the region is shown below: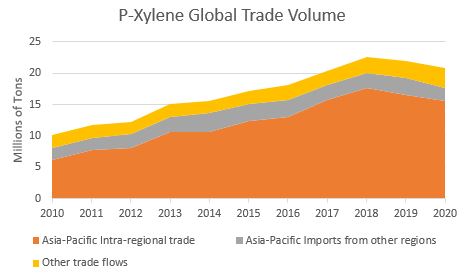 From International Trader Publications' P-Xylene World Trade Analysis, a continuously updated analysis of trade between countries and regions, and, ITP's Trade Archive of historic data from 2010.