SIBUR's addition of new polyolefins capacity in western Siberia was reflected in Russia's export figures for 2020 which set new record highs for HDPE, LLDPE and PP. As a result, Russia exported substantially lower volumes of liquefied propane gas, which is used as a feedstock in the new plant.
Russia exported a total of 1.1 million tons of ethylene polymers in 2020, up 202% from the prior year. China was, by far, the top export destination, followed by Kazakhstan, Belarus, Ukraine, Turkey and others. Shipments peaked in September; eased in the fourth quarter.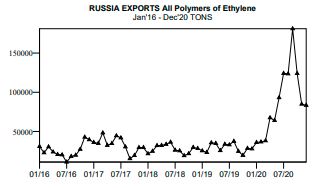 HDPE accounted for most of the total, 682,000 tons, up 325%. Exports of LLDPE were an additional 157,000 tons, up from minor volumes.
Exports of polypropylene homopolymer totaled 700,000 tons in 2020, up 143%. Shipments trended higher for most of the year. Turkey and China were the top export destinations, followed by Belarus, Poland, Belgium, Ukraine, Vietnam and others.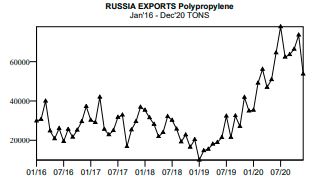 Russia's shipments of liquefied propane gas were down 26% in 2020, to 2.4 million tons. Although exports to Ukraine showed a large gain, there were declines to many other top destinations, including Poland, Finland, Belgium, Germany, Latvia and Sweden.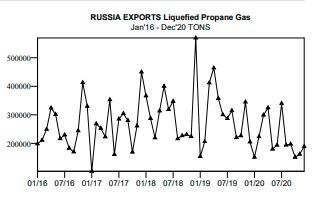 From International Trader Publications World Trade Reports on All Polymers of Ethylene, HDPE, LLDPE, Polypropylene, Propylene Copolymers and Liquefied Propane Gas. World Trade Reports provide continuously updated analysis of trade between countries and regions, based on ITP's database of 100 countries.