Competing shipments from North America impacted MEG exporters in the Middle East.
New capacity in the United States led to a surge in exports from mid-2019 forward. Through October, 2020, these totaled 1.8 million tons, up 91% from the same period in the prior year. Exports to China were 623,000 tons of the total, up 803%. Other markets receiving higher volumes included Mexico, Turkey, Korea, UK and Brazil.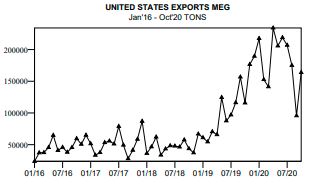 Saudi Arabia, Kuwait, Iran and UAE are among the Middle East countries that do not publish timely export statistics. Most of their trade, however, is visible from trading partner import statistics. For Saudi Arabia, the world's largest MEG exporter, these showed shipments of 5 million tons through October, 2020, down 9%. Exports were down to many markets, including China, Indonesia, Turkey, Spain, Korea and India.
MEG exports from Kuwait also were down YTD, by 5%, to 938,000 tons. Kuwait exported higher volumes to China but these gains were eliminated by lower volumes to India, Pakistan, and, especially, Turkey and Belgium.
Iran ships nearly all its MEG to China and exports to that destination were up 256% through October, to 790,000 tons.
There was a striking decline in MEG exports from the UAE. Through October these were only 28,000 tons, down 93% from the prior year. In 2019, UAE had exported 419,000 tons; in 2018, in 690,000 tons. Lower volumes to China and India were key factors.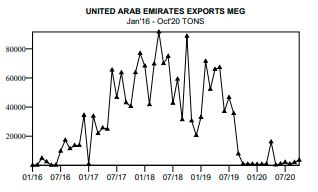 From International Trader Publications' MEG World Trade Report, a continuously updated analysis of trade between countries and regions based on ITP's database of 100 countries.