Key trends included: a dramatic drop in trade within the Asia-Pacific region; much lower imports into Asia-Pacific from other regions: much higher imports into Eastern Europe.
The steepest drop in global trade volume over the five year period was in 2017, the first year of China's ban on imports of RPE and other recyclable polymers.
RPE is post-consumer and industrial waste, scrap and parings that is identifiable as polyethylene and which must be further processed before it can be used to make products.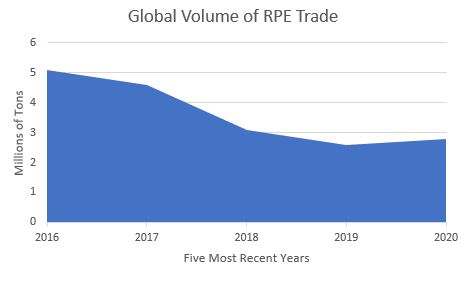 Comparing volumes at the start and end of the five year period, there was a steep drop in trade within the Asia-Pacific region, which fell by 82%, from 1.3 million tons in 2016 to 0.23 million tons in 2020.
Imports into Asia-Pacific plummeted 71%, falling from 2.3 million tons in 2016 to 0.65 million tons in 2020. This was sourced mainly from Western Europe and North America throughout the period.
Imports into Eastern Europe grew from 0.26 million tons in 2016 to 0.59 million tons in 2020, an increase of 125%. In the latter year, the source of Eastern Europe's imports was: Western Europe, 90%; Middle East, 7%; North America, 3%.
Turkey was, by far, the largest RPE import market in Eastern Europe, accounting for 440,000 tons of the 590,000 ton total in 2020. On May 18, 2021,Turkey announced that imports of RPE would be banned as of July 1, 2021. This will impact trade flows globally, but especially Western Europe, which shipped 360,000 tons to Turkey in 2020.
From International Trader Publications' Recyclable Polyethylene World Trade Analysis, a continuously updated analysis of trade between countries and regions based on ITP's database of 100 countries, and, from ITP's Archive of World Trade Analyses.