Public outcry in Turkey over piles of plastic waste dumped on roadsides, burning, and floating in rivers led the Turkish government to ban imports of recyclable polyethylene. In 2020, imports of RPE from Western Europe totaled 360,000 tons.
In 2020, Turkey was the world's largest importer of R-PE – post consumer and industrial waste, scrap and parings identifiable as polyethylene which can be processed into usable products. Turkey's imports for the year totaled 438,000 tons, up 48%, of which 360,000 tons were from Western Europe, mainly Germany, UK, Netherlands and Belgium.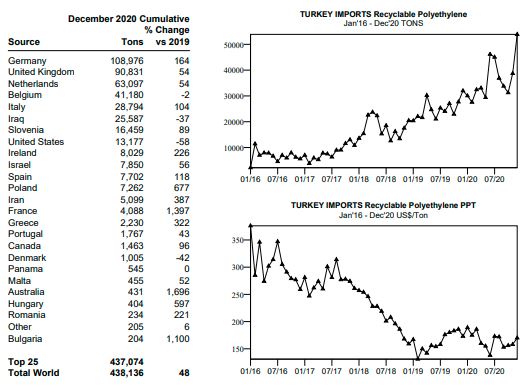 Turkey's imports trended still higher through first quarter 2021, reaching 157,000 tons, up 75%, Western European countries again accounting for most of the volume.
The sudden loss of this export destination for Western Europe, and the increasing reluctance of other countries to take this material, will pressure EU countries to find other solutions.
From International Trader Publications' Recyclable Polyethylene World Trade Analysis, a continuously updated global analysis of trends between countries and regions, developed from the latest statistics of the 100 countries in our database.