Lower imports into China were evident in the slowdown in trade within the Asia-Pacific region in 2018.
Asia-Pacific intra-regional trade was 3.5 million tons in 2018, down 12% from 2017, based on latest available data.
China imported a total of 2.8 million tons, down 8% despite an upward trend in last half of the year, through November. Volume in December was steady with November at around 260,000 tons (and continued at that level in January 2019). China's imports from nearly all regional suppliers were down, including Korea, Japan, Taiwan, Thailand and, especially, Indonesia, imports from which essentially disappeared. China's average import price fell to $1025/ton in December (and dropped further in January, to $937/ton).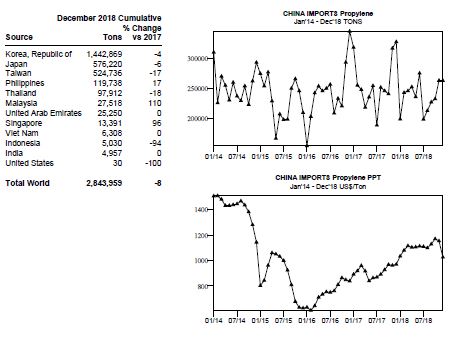 Note: Malaysia reported minor exports of propylene in 2018. Trading partners mainly within the region, however, reported over 120,000 tons of imports from Malaysia during the year.
From International Trader Publications' Propylene World Trade Report,an online Report updated daily and capturing nearly all of the world's propylene trade.