Global trade volume for both EDC and VCM trended upward from 2018 through 2020 but then diverged, with profound changes in regional, and country, imports and exports over the period.
Global
Trends in global trade volume generally indicate trends in global demand. The volume of EDC and VCM traded globally rose in parallel from 2018 to 2020. In 2021, however, which was heavily impacted by Covid, there was a disconnect, with EDC volume dropping but VCM increasing. There were particularly large declines in 2021 on EDC imports into India, Thailand, and China, while VCM imports rose sharply into India, the Philippines and Korea, with a minor increase into China. 
(For April 2023 YTD, ITP projects a decline of 4% in EDC global trade volume, to 1.0 million tons, versus the same period in the prior year, and a 5% drop in VCM global trade volume, to 1.5 million tons.)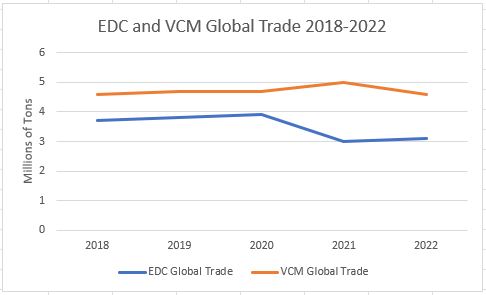 Regional
Asia-Pacific and Africa accounted for most of the world's imports of EDC (exclusive of intra-regional trade). Sharply lower EDC imports into Asia-Pacific were not offset by imports into Africa more than doubling. Latin America and Asia-Pacific accounted for nearly all of the world's VCM imports.

On the export side, North America (US) and the Middle East accounted for most of the world's exports of both EDC and VCM to other regions. Shipments out of North America declined for both products over the period. Exports out of the Middle East declined for EDC but increased slightly for VCM, Saudi Arabia and Qatar key exporters of both products.

Country
ITP follows statistics for over ninety countries. Latest statistics for the US show higher shipments of EDC through April 2023, on increased volumes to Egypt, India, and Netherlands. US exports of VCM were down, reflecting lower volumes to Mexico partly offset by small gains to Colombia and Canada.

From International Trader Publications' World Trade Analyses, continuously updated online analyses of EDC and VCM global trade developed from trade statistics, vetted for accuracy, from all available countries.