Global trade in high density polyethylene in 2022 was 25.1 million tons. HDPE accounted for 37% of the 68 million tons of polyethylene traded globally that year.
HDPE global trade expanded particularly strongly from 2018 to 2020, prior to disruptions from Covid-19. Volume in 2020 peaked at 27.7 million tons. Two years later, in 2022, HDPE global trade was 2.6 million tons lower, at 25.1 million tons.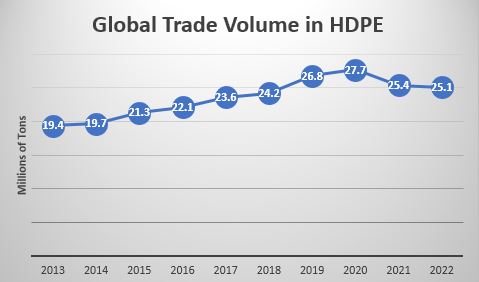 ITP projects a 3% decline in global trade volume in 2023, to 24.5 million tons.
The following graphs show how much HDPE was exported by each region to other regions in 2018 and 2022, and how much was imported into each region from other regions (both excluding intra-regional trade). Comparing regional exports, note the jump in shipments from North America in 2022, relatively flat exports out of the Middle East, and gains on smaller volumes out of Eastern Europe and Asia-Pacific. Comparing regional imports, the drop in imports into Asia-Pacific is especially prominent. Imports into most other regions increased.

The sharp slowdown in China's imports of HDPE was a key factor in lower global trade volume. In 2021 China imported 6.6 million tons, down 27% from 2020; in 2022, imports were 5.9 million tons, down 11%. Through June of 2023 China imported 2.4 million tons of HDPE, down 18% from the first half of 2022.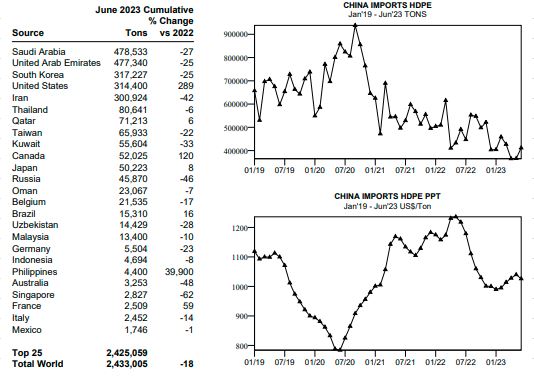 India and Turkey stood out recently as high growth markets although the increase in their volume was not sufficient to offset the slowdown in China and elsewhere.

From International Trader Publications' HDPE World Trade Analysis, a continuously updated online analysis of global trade developed from trade statistics from all available countries.