Much lower exports to Asia-Pacific in 2021 versus 2020, due to a steep drop in shipments to China, shifted Russian exports toward Eastern Europe, Western Europe and, with smaller volumes, Latin America and Africa.
In 2020, Russia exported 1.1 million tons of ethylene polymers (all grades). Asia-Pacific was the top regional destination, China accounting for nearly all of that region's volume, followed by Eastern Europe and Western Europe, with small volumes to other regions.
In 2021, Russia's exports are projected to total 1 million tons, down 8% from the prior year, primarily because of much lower volumes to China. Part of the decline to Asia-Pacific was offset by higher volumes to Eastern Europe, Western Europe, Africa and Latin America. Russia's largest export destinations for ethylene polymers in 2021 included China, Turkey, Poland, Belarus, Ukraine, Serbia, Lithuania, Uzbekistan, Belgium, Italy, UK, Ivory Coast, Morocco, South Africa, Peru and Brazil.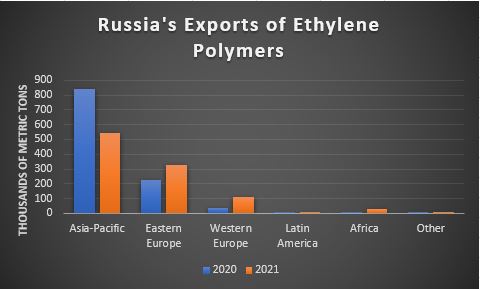 In 2020 Russia exported 699,000 tons of propylene polymers (all grades), mainly to Eastern Europe but with large volumes also to Asia-Pacific and Western Europe.
In 2021 exports to China also fell sharply but Russia expanded shipments to other regions, more than offsetting the decline. Exports in 2021 are projected to total 808,000 tons, up 16%. Russia's largest export destinations for propylene polymers in 2021 included Vietnam, Turkey, Ukraine, Belarus, Poland, Serbia, Lithuania, Belgium, Germany, Italy, Portugal, Peru and Brazil.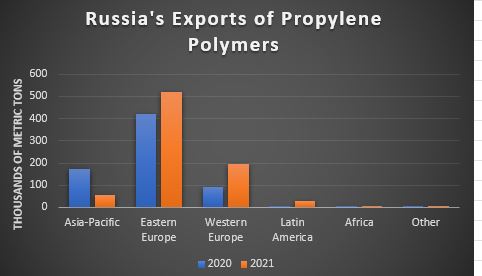 From International Trader Publications' World Trade Analyses for all grades of ethylene and propylene polymers – continuously updated analysis of evolving trade between all countries and regions based on ITP's database of statistics capturing nearly all of the world's volume.