The increase in 2021 was unusual and may have related to virgin polymer shortages.
In 2021, 7.2 million tons of recyclable polymers were traded globally, up from 6.9 million tons in 2020.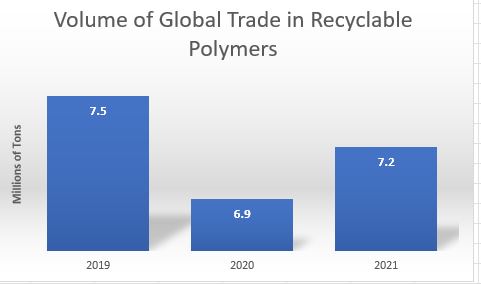 Recyclable polymers are post-consumer and post-industrial waste, parings and scrap of polymers, identifiable by specific polymer or as mixed polymers, that must be further processed before they can be used to make products.
Of the 7.2 million tons traded globally in 2021, 2.9 million tons were polyethylene, 0.2 million tons styrenic polymers, 0.3 million tons PVC and 3.8 million tons of other polymers, including PET, PP, PC, PMMA and others.
Prior to 2021, the volume of recyclable polymers moving around the global had trended lower each year. Volume in 2020, 6.9 million tons, was down by more than half of what it had been in 2016. China's end to imports of these materials as of 2017 was a major factor in the decline. Also contributing was growing reluctance of other countries to import these materials and increased efforts by many countries to improve their domestic recycling efforts.
In 2021, growing demand for virgin polymers accompanied by numerous supply constraints and rising prices is likely to have contributed to the increase in demand for, and trade in, recyclable polymers.
From International Trader Publications' World Trade Analyses of global trade in Recyclable Polyethylene, Recyclable Styrenics, Recyclable PVC, and Recyclable PET, PP and Other Polymers, continuously updated analyses of trade between countries and regions based on ITP's database of 100 countries.