The US exported 3.36 million tons through April, down 11%. Reduced shipments of HDPE and ethylene alpha olefins copolymers were not offset by higher volumes of conventional high pressure LDPE and EVA. Average prices soared on reduced supply and strong demand.
Opposite trends in volume and prices of US exports of ethylene polymers are visible in the graph below: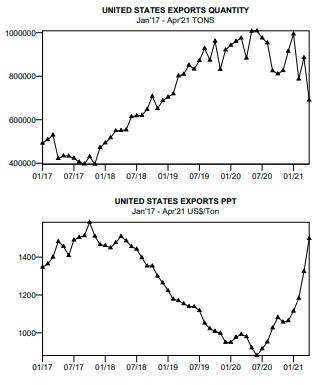 US exports of HDPE totaled 1.1 million tons through April, down 16%. Exports of other polymers were: EAOC, 1.3 million tons, down 8%; conventional high pressure LDPE 424,000 tons, up 4%; EVA, 71,000 tons, up 14%.
From International Trade Publications United States Polymer Trade Report, a monthly analysis of US imports/exports of polymers of ethylene, propylene, styrene, PVC and PET, recyclable polymers and key fabricated plastic products.