The US shipped 406,000 tons of recycle polymers through July, 2019, down 46% from the same period in the prior year. China's total ban on imports of recycle polymers as of 2018 was a key factor in the decline. Further declines in US exports are expected as India has announced it will also ban all recycle polymer imports.
US exports of recycle polymer have generally trended downward since early 2017: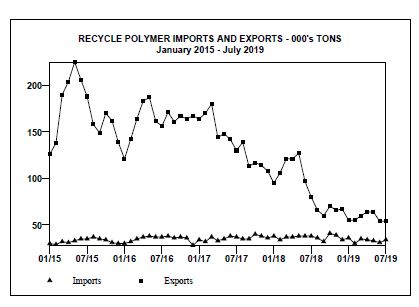 R-PE exports were 175,000 tons of the total, down 36% on lower volumes to India, Canada, Hong Kong, Malaysia, Taiwan, Thailand, Indonesia and Vietnam, as well as to China. Exports of R-PP (together with other smaller volume polymers) were 143,000 tons, down 47%.
India has been the top US export destination for R-PE. However, in May 2019 the Indian government announced that it would ban all recycle polymer imports. The ban is expected to come into effect as of September 2019.
In 2018, India reported imports from the US of all recycle polymers of 71,000 tons. This number appears to be understated as the US reported exports to India of nearly twice that amount.
From International Trader Publications' Recycle Polymer Trade Reports, continuously updated on line analysis of global recycle polymer trade.
Exports of R-PE and R-PP accounted for most of the US export total