Imports of propylene polymers, styrenic polymers, PVC and PET all hit new highs in July on strong demand and tight supplies. Imports of ethylene polymers also surged. Hurricane Ida's recent impact on US production capability is expected to further aggravate domestic supplies, especially for PVC and styrenics, increasing imports and reducing exports.
Record volume in July contributed to the 17% increase in US imports of commodity polymers year to date, to 3.97 million tons, versus the same period in 2020.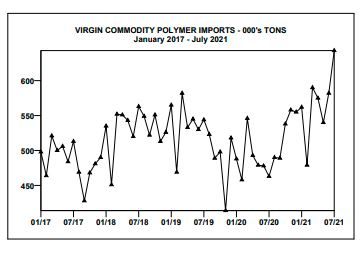 Ethylene polymers (LDPE, LLDPE, EAOC, HDPE and EVA) accounted for the largest volume, 2.1 million tons, up 5%. The US exported 5.5 million tons through July, down 19%.
The highest percentage gain was on imports of propylene polymers (homopolymer, copolymer and PIB), up 85%, to 0.46 million tons YTD. Exports of 1.1 million tons fell 10%.
The US imported 0.39 million tons of styrenic polymers YTD, up 9%, mainly on higher volumes of ABS and expandable polystyrene. Exports of 0.4 million tons showed the only increase among the commodity polymers, up 37%, to 0.41 million tons.
PVC imports hit a new record in July and totaled 0.25 million tons YTD, up 5%. US exports are a much larger volume, totaling 1.4 million tons, down 17%.
Imports of PET were up 39% through July, to 0.79 million tons. Exports of 0.13 million tons were down 7%.
From International Trader Publications' US Polymer Trade Report, a monthly analysis of US trade in commodity polymers, recyclable polymers and key fabricated plastic products.