US exports of polyethylene slumped from August through October 2020 in the aftermath of several hurricanes, then climbed back to record territory in December. Exports to China in January were up more than double from the prior January.
US exports of ethylene polymers totaled nearly one million tons in January, up 5% from the previous January. Exports to China were 152,000 tons of the total, up 132%. Mexico and Brazil were also growth export destinations, among others. Shipments of every grade increased – LDPE, LLDPE, HDPE, EAOC and EVA – and prices trended higher.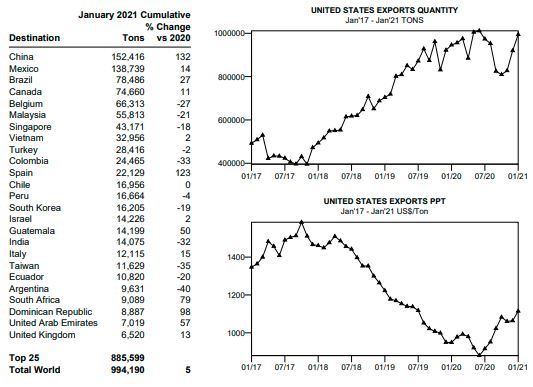 Ice storms in the Gulf Coast in February affected most resin producers in the Gulf, leading to supply shortages and rising prices that are expected to continue for months.
From International Trader Publications' US Polymer Trade Report, a monthly publications issued as soon as US statistics are released and analyzing US imports and exports of all polymers of ethylene, propylene, styrene, VCM and PET.