The volume of ethylene traded globally rose from 5.8 million tons in 2010 to a high of 8 million tons in 2019, then slowed to 7.4 million tons in 2020 because of the pandemic. Regional trade flows shifted dramatically during that period.
Ethylene trade expanded every year except 2014 and 2020: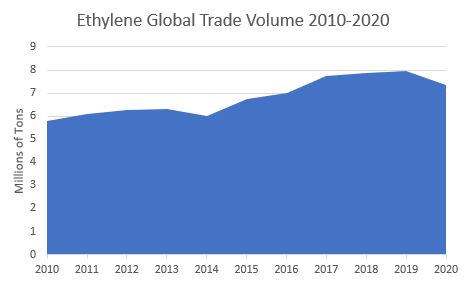 Prominent regional trends over the period included: increased Asia-Pacific intra-regional trade and also imports into the region from North America and Western Europe; greatly increased exports out of North America; greatly reduced exports out of the Middle East.
From International Trader Publications' Ethylene World Trade Analysis, a continuously updated analysis of ethylene trade between countries and regions based on ITP's database of 100 countries.