Polymer imports in April were almost as low as during Chinese New Year; exports of PVC hit a new high and shipments of PET also remained high; exports of fabricated plastic products continued slow.
Through April, China imported 8.3 million tons of commodity polymers, down 16% from April 2021. Most of this was polyethylene, 5.4 million tons, also down 16%. This graph shows China's imports of all grades of PE, PP, styrenics, PVC and PET: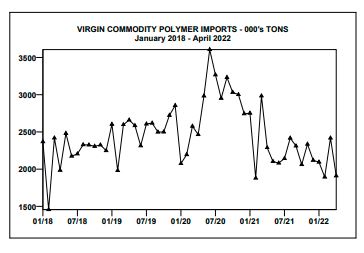 China exported 3.5 million tons of polymer through April, up 13%. Exports of PVC were 0.9 million tons, up 3%, India, Vietnam, Turkey and Russia the leading destinations YTD. PET exports were 1.6 million tons, up 33%, Nigeria, Russia, Turkey and Philippines the top markets.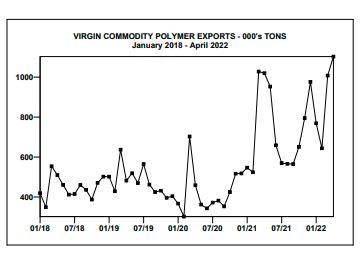 China exported 5.3 million tons of products identifiable as made from plastics, up 9% from the same period last year. Shipments slowed in April, after a weak rebound from Chinese New Year in March.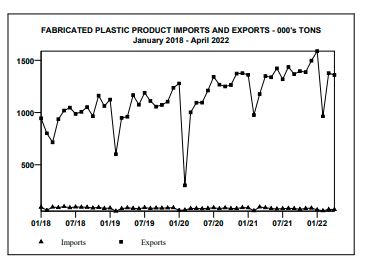 From International Trader Publications' China Polymer Trade Report, a monthly analysis of China's trade in all commodity and recyclable polymers and leading fabricated plastic products.